Hyde Market to get £1.2m revamp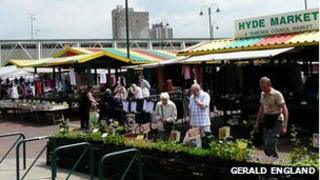 The £1.2m redevelopment of a Greater Manchester market will begin in January 2012 following the completion of a public consultation.
The revamp of Hyde Market will see the creation of a civic space for events and a change in the layout of stalls to improve access.
Tameside Council's David Sweeton said the plans would give the market "a fresh look".
Market trader Lesley Parsonage said the designs looked "very swish".
The consultation on the plans began in May and the redevelopment has been welcomed by many of the town's residents.
The redesign will use high quality materials and see the removal of street clutter from the area.
Mrs Parsonage said it was "great to see Tameside is supporting our future by making this popular market even better for shoppers and traders".
"The designs look very swish and I think the new square will give Hyde a focal point," she said.
Mr Sweeton said the council's vision was to have "a civic space with a successful market".
"The Stronger Together group, a collection of organisations working to improve the lives of Hyde people, is looking forward to using the new civic space for community activities to make sure it is enjoyed by everyone," he said.
"This promises to be a great new start for the centre of Hyde."