Bullied David Askew unlawfully killed after 'years of torment'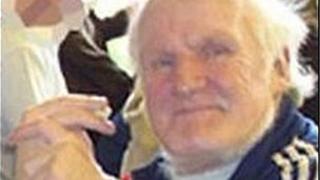 A bullied man with learning disabilities who was subjected to 30 years of "torment" was unlawfully killed, an inquest ruled.
David Askew, 64, was found dead outside his house in Hattersley, Greater Manchester, in March 2010.
A pathologist earlier told the inquest an altercation with youths 10 minutes before he collapsed had been a factor in his death.
South Manchester coroner John Pollard ruled Mr Askew was unlawfully killed.
Mr Pollard said there was a "staggering degree of inertia and complacency" shown by police, the council and housing associations in dealing with the anti-social behaviour towards Mr Askew.
"The fact that there is 38 separate offences reported against this family within a three-year period shows the appalling way in which this element of feral youths can bring misery to a decent, vulnerable family," he said.
'Long-suffering torment'
Pathologist Dr Charles Wilson told the coroner Mr Askew had suffered from ischemic heart disease, which meant not enough blood got to his heart.
He was also suffering from cancer of the oesophagus.
Mr Wilson said the adrenalin released by the altercation with the youths would have made his heart beat faster, and in turn this could cause heart failure in an already weakened heart.
On the opening day of the inquest, Mr Askew's mother Rose said her son had endured "long-suffering torment".
She said he had been called "lunatic" and had sticks and stones thrown at him, with eggs and tomatoes thrown at the family home. She has since moved from the area.
In a statement made after the ruling, she said: "My life is not the same without David. I feel as if part of me is gone.
'Hate crime'
"I am still angry about what happened to David but there is no use hating people. Not all teenagers are like the ones who would target David every day and every night.
"I also want to say how lovely the support has been from the police and other agencies. People often forget that police officers are human beings and they really care about us."
A spokesman for Tameside council acknowledged all agencies within the borough needed to work "more closely" together.
"[We need] to identify vulnerable people within our communities, and ensure that we are effective in protecting them from harassment and hate crime," he said.
A spokesman for Greater Manchester Police said: "We have learned our lessons and made significant improvements to the way we deal with these crimes."