Leigh fundraiser 'amazed' to be torchbearer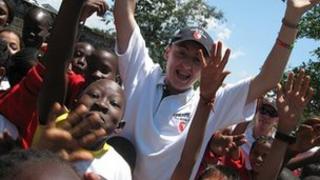 A 16-year-old from Leigh who suffered serious injuries after falling from a ski lift has been chosen to carry the Olympic Torch during the flame's relay next year.
Avid sports fan and player Cameron Foster said he was "amazed" to receive the offer from the London Organising Committee of the Olympic and Paralympic Games.
He said that it showed how "you can turn what seems like a bad situation into a positive one".
Cameron's accident in 2005 left him with dislocated ankles, broken legs and a broken arm.
In his rehabilitation, he had to use a wheelchair to get around and it was while doing so that he realised how difficult it can be for people in a similar situation to become involved in sport.
As a result, once he was back on his feet, the teenager started volunteering in his local area, helping out at his local cricket and karate clubs and working with a development scheme that focuses on getting young disabled people into sport.
He also began fundraising and has raised about £15,000 for causes around the Leigh area, a feat which saw ex-cricketer Andrew Flintoff surprise him with a Princess Diana Award at his school in March.
He said at the time that his work was about trying "to give something back".
That award has only spurred him on and in November, he became the youngest volunteer to take part in Cricket Without Boundaries' activities, travelling to Africa to teach children and adults to play cricket.
Before the relay, he will also travel back to Africa with Andrew Flintoff's AF Foundation to take part in a charity climb of Mount Kilimanjaro.
Yet, even with that on the horizon, it is being a torchbearer that Cameron is most looking forward to.
"The Olympic Torch Relay is going to be such a magical event and I want to be able to share that experience with family, friends and those who I work with," he said.
"I was amazed when I learnt I have been offered the chance to carry the Olympic Flame.
"I hope that when people learn about my story they see you can turn what seems like a bad situation into a positive one that others can benefit from."