Oldham rugby union clubhouse roof blown away by winds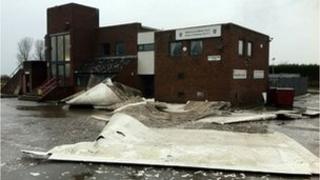 Strong winds have blown the roof off a rugby clubhouse in Greater Manchester.
The flat fibreglass roof of the newly renovated headquarters of Oldham Rugby Union Club was swept onto its car park at 13:30 GMT.
Volunteers who were painting and decorating inside the two-story brick building were unhurt.
Elsewhere the severe weather uprooted a tree, which fell onto a house in Woodheys Drive, Sale. A boy believed to be inside was unhurt.
The rugby club's groundsman, Alan Hollingsworth said: "I'd just left the club when one of the volunteers phoned me and said the roof was in the car park.
"There's roof all over the training ground, so training's been cancelled and we've put an SOS out for people to come and help.
"The roof was only three years old and we had a full refurbishment that finished in September and now we've got water coming in everywhere."
In Manchester, the city' tallest building, Beetham Tower, produced a loud hum as winds gusted through its glass blade section at the top of the 47-storey structure.
Flights out of Manchester Airport and trains in and out of the city were unaffected.