Manchester Grammar to open New Islington free school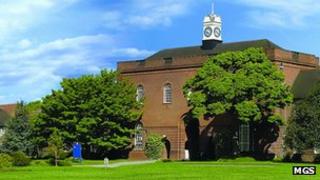 One of Manchester's oldest schools has announced it will open a primary school in one of the city's renewed areas.
Manchester Grammar School (MGS), founded in 1515, will provide teaching expertise to New Islington Free School.
The primary will support the community of New Islington, a regeneration project in inner-city Manchester.
MGS high master Dr Christopher Ray said he was "delighted to assist in the establishment of the city's newest school".
New Islington has undergone a facelift in the past decade, with work on the area by developers Urban Splash, Manchester City Council and the Homes and Development Agency regenerating the rundown area.
The development company's chairman, Tom Bloxham, said he had "long had an ambition to build a new primary school in New Islington".
Free schools are run by independent education providers that are funded directly by central government.
The application for New Islington will be sent to the Department for Education in February 2012, with the intention of opening the primary in either September 2013 or September 2014.
'Educational excellence'
Unlike the single-sex MGS, the New Islington school will be for both boys and girls and have no academic entry requirements.
A spokeswoman for MGS said that "any child who attends New Islington will have to go through the usual selection process for entry to the grammar school".
Dr Ray said MGS had "worked closely with local state primary schools for many years" and were "now ready to provide focused educational support in an area of need and development".
"Central to the ethos of MGS are our firm commitments to educational excellence, to the needs of the individual within a strong and supportive community, to social diversity and social mobility, and outreach to the disadvantaged," he said.
"We know that every child is different and we shall do our utmost to encourage each child to flourish as a unique individual."
MGS was founded in 1515 by the Bishop of Exeter, Hugh Oldham, who was believed to have been born in the New Islington area.