New tram operating system delays Metrolink extension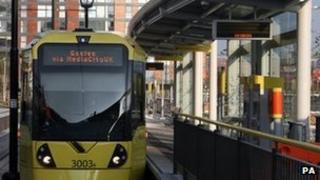 Greater Manchester's tram network extensions have been delayed due to the fitting of a new operating system, the area's transport executive has said.
Transport for Greater Manchester (TfGM) said bringing in the new system meant new lines to Central Park and Oldham Mumps would not open on time.
TfGM's Metrolink director Philip Purdy said work was ongoing to "integrate the new with the old".
The two new lines were due to open in December 2011 and March 2012.
Mr Purdy said a date for their new joint opening would be announced in January 2012 and that TfGM shared "the frustrations of people waiting patiently to use the services".
"We are working closely with the contractor, Thales, on this and the progress made ultimately dictates when lines can open for service," he said.
"We are currently assessing the implications this has for when we can start running to Central Park and Oldham Mumps, but we will open them together, rather than in two phases, next year.
"This is about the safe operation of a network that will be three times the size it is now, so we cannot cut any corners - we have to be thorough."