Rob Teare to be Isle of Man's new Manx language head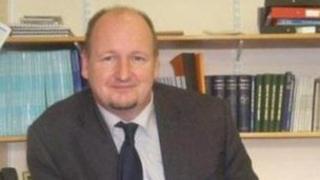 A new head of Manx language education has been appointed.
Rob Teare will succeed Rosemary Derbyshire as the Department of Education and Children's Manx language officer when she retires at Christmas.
He will head the Manx language unit (MLU) at Unnid Ghaelgagh in Peel and lead a team of teachers who work with pupils aged seven to 18.
He is a fluent Manx speaker and has been a teacher for 22 years. He joined the MLU in 2005.
Mr Teare said: "The MLU tries to ensure that every child on the island who wants to learn Manx has the opportunity. I believe that every local child should be offered the chance to learn our language.
"For me, as for many others, Manx has not only added another dimension to life on the island, but has also been a springboard to wider language learning, which was a major advantage for me when working overseas."