Manchester City Council tweets on road gritting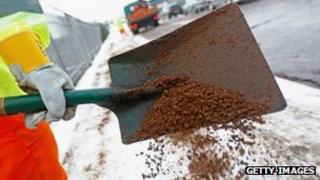 Manchester City Council has launched a Twitter feed to keep people up to date on where its gritters are working.
The feed - @MCCGritters1 - will let followers know when salt is being spread on key routes.
The council has stockpiled more than 5,000 tonnes of salt so it can treat A and B roads, bus routes, commuter routes and access to community services.
Grit bins are also in the city, enabling people to use the salt.
Councillor Paul Andrews, executive member for neighbourhoods, said: "Manchester has kept moving despite severe cold spells in the last couple of years but we are always keen to keep improving our service which is why we have substantially increased the amount of salt we have ready to use.
"Providing better information to residents is part of this and we hope residents will be reassured when they know the gritters are out and about through the night, working on their behalf."