Man bailed over Nellie Geraghty mugging death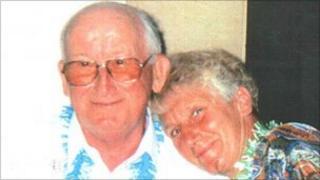 A man has been released on bail after being arrested over the death of an elderly woman who died after she was mugged for her handbag.
Nellie Geraghty, 79, was found clutching the strap of the bag - which had contained her late husband Frank's ashes - in Oldham on 24 November.
She suffered serious injuries and died in hospital the following day. The bag and the ashes have not been found.
The 37-year-old man has been bailed pending further inquiries, said police.
Mrs Geraghty's family said she had carried the ashes everywhere with her and wished to be cremated with them so they could be scattered together on Mr Geraghty's allotment.
They were kept in a small box in a blue velvet drawstring bag.
Two teenagers, aged 14 and 17, have previously been arrested on suspicion of murder and have been bailed until 9 January.