Rochdale sham marriage vicar John Magumba facing jail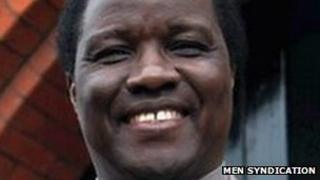 A Church of England vicar from Rochdale has admitted carrying out sham marriage ceremonies to allow illegal immigrants to gain the right to stay in the UK.
The Reverend Canon Dr John Magumba, 58, performed 31 bogus wedding ceremonies at two churches in the town.
Magumba, originally from Uganda, pleaded guilty at Bolton Crown Court to conspiring to facilitate a breach of UK immigration law.
Magumba was warned he is facing a jail term when he is sentenced next month.
He also pleaded guilty to two counts of theft from his church councils by not declaring income from weddings and funerals.
'Suspended from ministry'
Magumba, who was a team vicar for three Rochdale churches, admitted the theft of £5,400 from St Peter's Church, Newbold, and £2,908 from St Luke's, Deeplish.
Judge Thomas Teague QC granted bail, but warned Magumba that at his sentencing on 19 January he "must expect to lose his liberty for some time".
Magumba was suspended from the Church of England when he was arrested in March.
A spokesman for the Diocese of Manchester said: "The highest standards are expected from all clergy.
"It is extremely rare for clergy to abuse the trust placed in them by their congregation, community and bishop.
"At present Magumba is suspended from ministry by the bishop.
"His suspension will continue while formal Church procedures begin into his conduct."
Border Agency inspector Dave Magrath said: "Immigration crime poses a serious threat to the UK's immigration controls, which is why the UK Border Agency is relentless in tracking down anyone who organises or benefits from such criminality, whoever they may be."