Manchester teen uses Facebook to mock sentence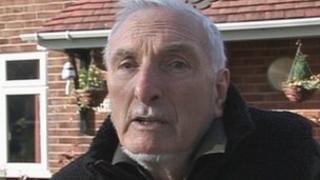 A Manchester man who was injured in a "vicious" attack has said one of the teenagers involved was "evil" for mocking his court sentence on Facebook.
Bernard O'Donnell, 79, sustained a leg injury in the assault on Halloween.
Ryan Girdlestone, 18, who admitted affray, was electronically tagged and given a curfew and restraining order.
But moments after leaving court, he updated his Facebook status with the message: "Jus got out off court wiv a 4 mouths [sic] tag hahahha".
A concrete slab was thrown at Mr O'Donnell outside his home in Sandacre Road, Baguley, on 31 October after eggs had been thrown at his windows.
In court Girdlestone's lawyer said his client was full of remorse.
'Sheer contempt'
Girdlestone pleaded guilty to anti-social behaviour and affray on 9 December at Manchester Magistrates' Court and was sentenced on Monday.
Mr O'Donnell said: "It is quite disgraceful. There's a terrible lack of grace. In its place we've got evil and it's spreading I'm afraid.
"I think it reflects a general attitude of many of the youth of today.
"They lack moral fibre, they lack morality. Good or bad doesn't come anywhere in their vocabulary.
When Mr O'Donnell's MP Paul Goggins raised the matter in the Commons, Justice Secretary Ken Clarke said: "That is very offensive to victims and to the general public."
Mr Goggins asked Mr Clarke: "What action do you intend to take against offenders who receive a community sentence instead of prison, but who then use social media to boast they have got away with it?
"I'm thinking in particular of comments posted on Facebook yesterday by Ryan Girdlestone, who mocked the court within minutes of receiving a restraining order for his part in a vicious attack on my constituent Bernard O'Donnell.
"Isn't that sheer contempt of the court and shouldn't he be held to account?"
Mr Clarke said the government would be looking to make community sentences "more effective".
He said: "They have to contain a genuine punishment in most cases and also be rehabilitative."