Salford parking charges set to rise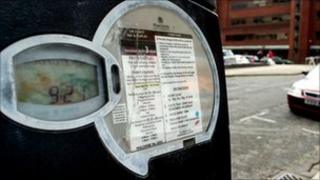 People in parts of Salford could soon be paying more for parking if plans to increase charges get the go ahead.
The city council wants to charge for parking 12 hours a day, seven days a week, to bring it in line with Manchester's charges.
It said its streets bounded by Trinity Way and Chapel Street were being clogged by people visiting Manchester who were hoping to park for free.
The plan is due to go out to consultation over the next few months.
If it gets the green light, the cost of parking in a street bay for an hour would rise from £1.50 to £2.70, the same as in Manchester.
Currently, drivers can park for free after 18:00 during the week and after 12:00 on Saturdays, and all day on Sunday.
'Flood into Salford'
If the charges are changed, drivers will have to pay from 08:00 to 20:00 seven days a week.
The council has said introducing the charges could make more than £170,000 a year.
Derek Antrobus, lead member for planning, said: "That part of Salford, which is right next to Manchester city centre, has considerably lower charges than Manchester.
"We are worried that drivers will go right round the city centre and flood into Salford.
"Secondly, we have a lot of free parking space on the streets in Salford and that is actually causing problems for the businesses that are already there, where commuters are parking there all day and that means shoppers can't stop go and buy something and pick things up.
"So we are reviewing all the traffic orders in that area, working very closely with the local traders, the local community and the ward councillors.
"I am expecting a report on that in the new year."