Stockport woman trapped in flat by broken lift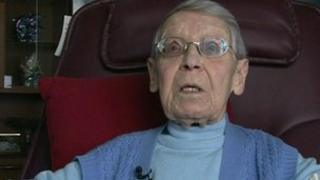 An 84-year-old Stockport woman stranded in her home for three months due to a decommissioned lift has said she does not know when she will get out again.
Respiratory problems mean that Florence Bailey has been unable to leave her home at Rena Court in Heaton Norris because she cannot manage the stairs.
She said she felt "very guilty" about depending on others to do her shopping.
Block owners Northern Estates said it had no plans to fix the lift, which was "beyond economic repair".
Mrs Bailey last left her flat on 21 September and said, while she was "getting on with it", she was upset that she paid a service charge for the block but "didn't get any service".
'Sorry for Flo'
"Things that we used to pay for, we're just not getting anymore," she said.
She said she was particularly upset about having to rely on neighbours to bring her shopping, as "it's bad enough that they have to carry their stuff upstairs".
She said she "can't see any time" that she would be able to leave her flat again.
"Even if I could get down, I need my shopping trolley for balance outside, and I couldn't get that down," she said.
A spokeswoman for Northern Estates said the company had been "working hard to identify the problems with the lift at Rena Court, but it has been deemed unsafe and beyond economic repair by our lift engineers".
"Under the circumstances, and because we cannot procure appropriate insurance cover, we have no alternative other than to de-commission the lift at this time for the safety of tenants," she said.
"We sincerely regret any inconvenience or difficulties that this may have caused."
Mrs Bailey's neighbour, Ian Braddock, said he felt "so sorry for Flo".
"She's such an active person; she used to go to Stockport two or three times a week, but now she's unable to get out at all," he said.