Wigan charity Lucky Hens in chicken rescue race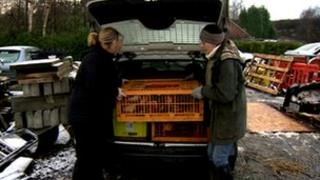 A Greater Manchester charity is involved in a race against time to find homes for hundreds of chickens by the end of the year.
Wigan-based Lucky Hens said it was rescuing scores of birds farmers are disposing of.
Large numbers of battery hens need to be rehoused because of new EU rules about cage sizes.
Some farmers cannot afford new cages and are getting rid of their birds, said Alison Thorpe of Lucky Hens.
'Very sad'
The charity tries to find homes for the hens with people who want them as pets.
"It's been extremely hectic recently, we've had no life at the moment apart from rescuing chickens," said Ms Thorpe.
The charity said it had rehoused more than 300 hens in the past 10 days.
"No hens must be in these cages on 1 January," said Ms Thorpe.
She explained that any hens left in their cages would be slaughtered unless homes were found for them.
"Some farmers are deciding to retire early because they cannot afford new cages, while others are going into massive debt. It is very sad."