Mother's appeal in Lee Erdman Salford pub shooting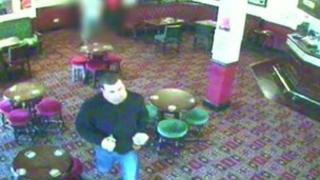 The mother of a man shot dead in a Salford pub in September has joined detectives in appealing for fellow drinkers to come forward.
Lee Erdmann, 37, from Salford, died after being shot at the Wellington pub on Regent Road on 10 September.
Police said an intimidating graffiti campaign warning people against speaking out had been waged on the nearby Ordsall estate.
Patricia Erdmann has asked witnesses to contact police to give her "closure".
Six people have been arrested over the murder and released on police bail.
'Totally heartbroken'
The inquiry has been further hampered, according to police, by the fact that the killer stole the pub's CCTV equipment immediately after the shooting.
A £20,000 reward has been offered by police for any information leading to the recovery of the footage.
Mrs Erdmann said: "I know there were 20 or 30 people in that pub and they do know who did it and I just wish that they'd have a heart and a conscience to get closure for us and for Lee's children who are totally heartbroken.
"I can understand that they would be frightened because who wouldn't be when someone can do what they did to Lee?
"But they could do it to someone else."
'Be brave'
Det Ch Insp John Chadwick said: "The information we've got is that very shortly before Lee was killed he was actually talking to the person responsible and there was no falling out here, and then all of a sudden Lee just gets shot.
"In the days after the murder graffiti has appeared on the Ordsall estate, basically threatening people who co-operate with police.
"I do understand people are in fear, but they're not up against a whole community here. It is a small number of individuals.
"I want people to understand the effect this has had on Lee's family coming up to Christmas.
"I need somebody to be brave and to come forward and tells us what they've seen.
"It's the right thing to do for this community and for Lee's family. If you've seen what happened here it's going to live with you forever.
"This stands out amongst other murders as something particularly cold and brutal."
Police said witnesses would be given protection and rehoused if necessary.