BAE Woodford sold to developer Avro Heritage Limited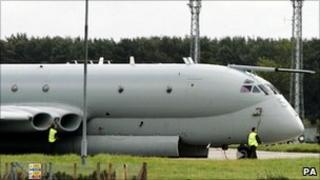 The BAE Systems' Woodford plant, near Stockport has been sold for £100m to a developer which plans to build a polo club, film studio and housing.
Avro Heritage Limited, half-owned by Joe Bamford, the heir to the JCB empire, will have its plans considered by Stockport Council in June.
It said it was in talks with a US film company over shooting a movie in the disused hangars at the 500-acre site.
The plant is due to close in March 2012 after the MoD axed the Nimrod project.
The defence cuts also meant that two Nimrods which had already been built at the site had to be scrapped.
'Not forgotten'
Jim Welsh, the BAE Systems general manager of the site, said: "BAE Systems has a long and proud association with Woodford and although disappointed to be leaving the site we are happy that the new owners have exciting plans for this historically important site."
Avro Heritage Limited has said it also plans to expand the existing heritage centre at the plant, which houses the historical Avro Vulcan aircraft.
A spokesman said: "We are honoured to take ownership of such a historic site and we will endeavour to ensure its past is not forgotten.
"We have many exciting plans for the site which will hopefully create new jobs and provide the local community with much-needed leisure facilities."
The spokesman said the company had been in talks with a US film company, which was hoping to make £120m movie at Woodford.
The company said that its plans also included building an equestrian centre and that the proposed housing development would create hundreds of jobs.
The Woodford site has been involved with aviation since 1924 and more than 20,000 aircraft have been built at the site, including the Lancaster Bomber, Canberra, Vulcan, Nimrod and Avro jets.