Bolton father's stolen gifts returned by police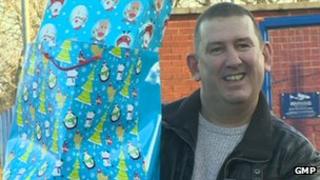 A single father from Bolton has had the price of Christmas cut after police returned presents stolen from his car.
After thieves raided Mark Gornall's boot outside his home in Great Lever on Monday, he decided to buy the toys all over again.
However, the following morning, the gifts were found in a dustbin and handed to police.
Officers contacted the shop they had been bought from and managed to trace Mr Gornall to return them.
The father-of-one said he was "very happy" to get the presents back.
Stashed in bin
"I cannot thank the police enough for their actions today and for making my daughter's Christmas special," he said.
Thieves targeted Mr Gornall's car after he left it open while unpacking the boot outside his home.
He did not to report the theft and instead decided to replace the gifts.
Unbeknown to him, the toys were stashed in a bin in the nearby Halliwell area.
Before the thieves had chance to return for them, they were discovered by refuse collectors on Tuesday morning.
The workers called the police, who made local enquiries but were unable to find who they belonged to.
Police 'delighted'
PC Hayley Fleming and Police Community Support Officer Julie Swift contacted Toys R Us, where the goods had been purchased, in the hope of tracing their owner.
A member of staff told them a man had been in earlier and said he was replacing stolen gifts.
The officers then found out he had later returned to the shop to get a refund on an item.
All refunds at the store require customers to give brief personal details, which Ms Fleming and Ms Swift used to contact Mr Gornall.
On returning the toys, the officers found Mr Gornall had bought replacements for each of the stolen items. But since getting the originals back he has returned the replacements for refunds.
Ms Fleming said she was "delighted" to have returned the gifts.
"On this occasion we were able, with the help of the refuse collectors and Toys R Us, to successfully follow up our lines of enquiry and reunite the property with its owner," she said.
No-one has been arrested in connection with the theft.