Manchester bogus car clamper Mohammed Ashraf jailed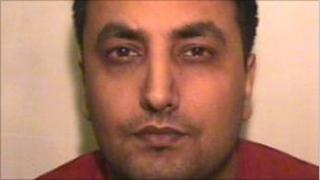 A man who ran a bogus car clamping company in Manchester has been jailed.
Mohammed Ashraf, 31, from Blackley, had been found guilty of illegally clamping cars in the city centre and demanding money to release them.
He also ran a company that claimed it could legitimately remove points from driving licences, while falsely nominating one man for the offences.
Ashraf, who used the pseudonym Alex Ashcroft, was jailed for five-and-a-half years at Manchester Crown Court.
His bogus clamping company, Unauthorised Parking Solutions Ltd, would clamp cars while the owner was away and leave a phone number on the windscreen to call.
He would tell vehicle owners who disputed the charges that the fee would increase if they did not pay immediately.
Another bogus company Removeallpoints.com was advertised in Rusholme and Cheetham Hill and claimed that, using legal assistance, it could reduce the number of points on driving licences.
However, he was actually nominating a man in Scotland for the offences without his knowledge, having obtained details of his licence years before.
The man began to receive fines and notices through the post in 2006 and, after being disqualified from driving in 2007, had to spend £2,000 in legal fees to resolve the issue.
Ashraf was found guilty at a previous hearing of five counts of blackmail, two counts of possessing articles for use in fraud, two counts of perjury and perverting the course of justice.