Anuj Bidve murder: Family want body returned to India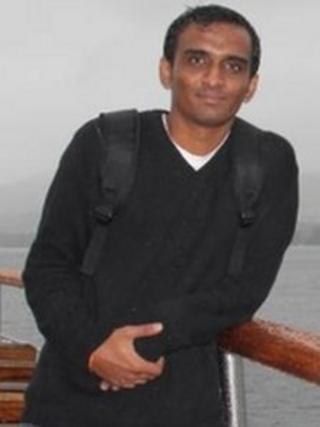 The father of a student shot dead in Salford on Boxing Day has spoken of his anguish at not knowing when his son's body will be returned home to India.
Subhash Bidve said his family were "really worried" about the repatriation of his 23-year-old son Anuj.
His anguish began when he found out about his son's death after it was posted on Facebook - three hours before confirmation from the authorities.
A man, 20, and four teenagers are being questioned on suspicion of murder.
Lancaster University student Anuj Bidve was shot in the head at close range in Ordsall Lane by a white man in his early 20s. Police said they were treating the murder as a "hate crime".
Speaking to BBC Radio 5 live, Mr Bidve said: "The last four days we have been feeling so much trauma because we are yet to know when Anuj can come back.
"We are really worried. All family members are worried about it.
"Everyone at home, they are all shattered and waiting for his remains to do all religious things."
'So humble'
Police said the body could only be released when the coroner and investigating officers felt in a position to do so.
Mr Bidve, from Pune, Maharashtra, described his son as "so humble, very brilliant, a very nice guy".
He said he first became aware of his son's death when his friends posted a message on Facebook.
"One of my cousins and one of my nephews, they have seen the message and they called me," he said.
He added that he could not understand why police had not contacted them because his number was on his son's mobile phone.
A spokesman for Greater Manchester Police said: "We made contact with a family representative as soon as we could, in line with our standard procedures for informing next of kin."
He added the family had been told by 09:00 GMT on Boxing Day.
Police are trying to trace the murder weapon - believed to be a small handgun.
Mr Bidve was in a group of nine Indian students visiting Greater Manchester during the holidays.
Police said the students, who had not been drinking, were walking from their hotel towards the city centre when the gunman approached them from the other side of the road.
He had a short conversation with Mr Bidve before producing a gun and shooting him at close range to the side of the head.
The gunman then ran back across the street before he and another male fled on foot towards Asgard Drive and the Ordsall housing estate.