Family's satisfaction as Fairfield Hospital death ruled 'avoidable'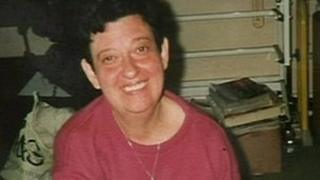 The sister-in-law of a woman who died after not receiving treatment for gall stones has said she is pleased the death has been ruled as "avoidable".
Carole Foster, from Bury, who had learning disabilities, died in 2006 in Fairfield Hospital.
Wendy Foster said her sister-in-law's mental health issues meant she was treated for the wrong things.
A UK Parliamentary and Health Ombudsman report in November found her death was avoidable.
Carole Foster was originally diagnosed with having gall stones in March 2006 but was then discharged as an outpatient while the inflammation of her gall bladder was reduced so it could later be removed.
However, she had attended the appointment on her own and her psychiatric conditions - and ability to take responsibility for her health - were not taken into consideration as her mental health care was dealt with by a different health trust.
Her learning disabilities were only raised in August 2006, which only came after she had missed several outpatient appointments and was in severe discomfort.
A month later, Miss Foster's condition had deteriorated to the point that doctors decided to operate on her despite her gall bladder still being inflamed.
A delay in treatment along with complications in subsequent surgery for an hernia led to her death in October that year at the age of 52.
'Very, very frightened'
Mrs Foster said that while her sister-in-law's initial diagnosis at the hospital in March 2006 had been correct, she should have been told about her condition - and what needed to be done to treat her - in the presence of someone else.
"Having learning difficulties, she didn't know what was going on and was a very, very frightened lady," she said.
"It's like telling a young child that they are going to have an operation without their mummy or daddy being there."
Ms Foster was sectioned in May and Mrs Foster said her sister-in-law received no pain relief between then and the beginning of September.
"She was being treated like she had broken down with her psychiatric problems, when in fact it was her pain barrier that had broken," she said.
"She was frightened and hurting and nobody was listening.
"She was treated for constipation - thought to have problems with her blood. A gynaecologist looked at her [but] nobody picked up her file at the hospital, though we repeatedly asked them to do so."
'Deeply regret'
Mrs Foster said that with the two health trusts - the Pennine Acute Hospital NHS Trust and the Pennine Care NHS Foundation Trust - dealing with her sister-in-law's care, it had complicated matters.
After her sister-in-law's death, Mrs Foster contacted learning disability charity Mencap for advice.
The charity, which runs a campaign called Death By Indifference aimed at highlighting cases of discrimination against those with learning disabilities, advised her to complain to the trusts and then contact the ombudsmen.
The Health Ombudsman report consequently condemned a failure of communication between staff and Miss Foster's family, the quality of medical staff assessments, and ruled her death as "avoidable".
A spokeswoman for both trusts said they accepted the findings and "deeply regret the service failures which occurred in this case and the distress it has caused".
"We would like again to offer our sincere apologies and sympathy to Miss Foster's family for their loss.
"Since this incident took place in 2006, lessons have been learned and each trust has introduced a number of measures to improve the services and care provided to people with learning disabilities."
Mrs Foster said she had spoken to staff "at director level" in both trusts, who she said had "reassured me that they would do things differently to make people like Carole safe [in the future].
"And I do believe that happened".