Greater Manchester Police to get £8.6m riots money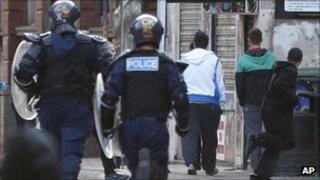 Greater Manchester Police (GMP) is get £8.6m from the government to cover the cost of dealing with the summer riots.
Thousands of police officers were deployed during the disturbances on 9 August and subsequent nights.
Greater Manchester Police Authority (GMPA) confirmed that it will receive the cash - nearly all it requested - from the Home Office.
The authority said in October the rioting had cost the force £8.7m, with overtime alone costing £2.3m.
GMPA had said if the force had to meet the full costs, it would lead to an overspend on its budget.
GMP's annual £580m budget was reduced this year by £50m, with a further £85m savings to be made over the next two years.
The government previously announced Manchester would receive £1m from its High Street Support Scheme, to help the city recover from the disturbances.
However, the GMPA said the money from that scheme was separate to the authority having to compensate businesses where police failed to protect them from looters and criminal damage. It would go directly to traders and could not be used to the reduce the authority's liability, it said.
A total of 188 city centre businesses were damaged during the rioting and looting - more than 100 stores suffered criminal damage, four were subject to arson and 77 were burgled.
On Wednesday, Merseyside Police Authority announced that it has been granted £2.5m of the £2.8m it originally applied for.