Stepping Hill saline deaths: Tribute to Bill Dickson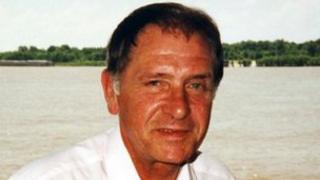 The family of a man who died from suspected poisoning at Stepping Hill Hospital in Stockport have paid tribute to a "very kind and generous man".
Former journalist Bill Dickson, 82, of Stockport, died on New Year's Eve.
His death is the fourth to be investigated by police in their inquiry into the contamination of saline solution at the hospital in the summer.
Male nurse Victorino Chua, 46, is being held on suspicion of tampering with medical records.
Police were alerted after concerned staff reported to police on 3 January. A patient who received extra medication was closely monitored and later discharged.
In a statement, Mr Dickson's family said: "Bill was a very kind and generous man with a great sense of humour.
"He was a hard working and dedicated journalist, well respected by his colleagues.
"A loving husband, father and grandfather, he will be sorely missed by his family."
Mr Dickson, a former news editor at the Manchester Evening News, was one of several patients who suffered a hypoglycaemic episode after being administered contaminated products at Stepping Hill between 1 June and 15 July, police said.
The spokesman added that inquiries to establish his exact cause of death were continuing.