Big Fat Gypsy Wedding's Paddy Doherty avoids jail term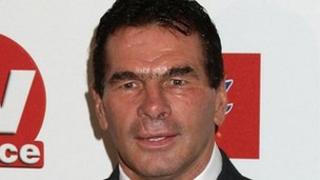 My Big Fat Gypsy Wedding star Paddy Doherty has received a suspended jail term for a public brawl with another traveller.
Manchester Crown Court heard that Doherty, 52, fought his cousin Johnny Joyce, 21, when he was challenged to a brawl amid an ongoing feud.
Doherty received a 51 weeks prison sentence, suspended for two years.
Sentencing him, Judge Martin Steiger QC said: "Those who fight in public places should be punished."
He added: "But there is significant mitigation in your case to suspend the sentence."
'Bad blood'
The judge also ordered him to perform 120 hours of unpaid work and banned him from contacting Joyce and his brother for two years
The court heard that former bare-knuckle fighter Doherty brought disapproval from elements of the travelling community when he complained to police in August 2010 that Joyce had attacked him in an earlier incident .
Joyce was acquitted of assault but Doherty's appearance as a prosecution witness caused "bad blood" between the two families.
Doherty, who now lives in Queensferry, north Wales, was jogging in Ancoats, Manchester, last June when he met Joyce.
A fight broke out near a retail outlet car park in which Doherty came off worse and ended with both falling on the floor.
Joyce bit off the top part of Doherty's left ear while insults were spat at Doherty by Joyce's brother, Douglas, who filmed the tussle on his mobile phone, the court heard.
The footage played in court showed the brawl spilling from the car park into a busy main road with cars swerving around the pair.
Doherty, formerly of Duchy Road caravan park in Salford, admitted affray last month.
'Ear bitten'
Johnny Joyce admitted a single charge of affray and Douglas Joyce admitted using threatening or insulting words or behaviour.
Doherty had his sentencing scheduled to a different day to keep the feuding factions apart.
The Joyce brothers, from Cherry Avenue, Manchester, will be sentenced on 13 January.
Doherty needed reconstructive surgery to his ear.
He told police he had acted in self defence from his cousins, adding: "I was in fear for my life. Johnny Joyce had previously broken my jaw in seven places. I spent some time on a life support machine."
Last September police warned Doherty and his sons their personal safety was in danger.
Mark Rhind, defending, said his client's court appearance "went terribly wrong" as he broke with the tradition of problems being solved within the travelling community.
"The bad feeling they (the Joyces) felt towards Mr Doherty was maintained and intensified," he explained.
"His culpability is minimal. He fronted up to a situation which he felt he could not avoid and has already paid significantly for it."
My Big Fat Gypsy Wedding propelled Doherty to national celebrity status and he won Celebrity Big Brother last year.