Stepping Hill Hospital saline inquiry: Nurse bailed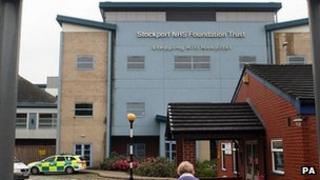 A nurse arrested on suspicion of murdering three patients at Stepping Hill Hospital has been released on bail pending further inquiries.
Victorino Chua, 46, had also been held on suspicion of 18 counts of causing grievous bodily harm with intent.
He was initially arrested on Thursday over the tampering of records at the Stockport hospital.
Mr Chua has been bailed in relation to all matters until an unconfirmed date in April, police said.
Officers had been questioning Mr Chua in relation to the deliberate contamination of products at the hospital between 1 June and 15 July.
'Extremely complex'
He was arrested as it emerged a fourth death at the hospital was being investigated, and was initially held over reports medical forms were altered and a patient given extra medication.
Assistant Chief Constable Terry Sweeney, of Greater Manchester Police, said: "The public perception is that, in most cases, once a person is arrested they are subsequently charged.
"The reality is very different and it is not unusual for someone arrested for an offence - whatever that might be - to be bailed in order for officers to carry out further inquiries.
"I want to reiterate what we have said from the outset; that this is an extremely complex investigation that requires very detailed forensic and medical analysis.
"These inquiries must be done thoroughly, carefully and with integrity and cannot be rushed.
"It is also important to reiterate that we are continuing to follow the evidence in our search for the truth and cannot rule out making more arrests further down the line."
'Ask for patience'
He added: "This man has been bailed in order for us to continue with our work and it is vital that the public, and in particular the media, do not jump to conclusions or second guess what the outcome of this man's arrest or our wider investigation will be.
"I know the victims and their families as well as hospital staff and residents want answers.
"I am acutely aware of this and determined to provide these answers but ask for patience while we continue this investigation."
There are now 21 people detectives believe have been affected by contaminated saline at Stepping Hill, including Tracey Arden, Arnold Lancaster and Derek Weaver, who died in the summer.
Bill Dickson, 82, had his saline poisoned over the summer, and later died on New Year's Eve. He is currently being treated as one of the victims of GBH with intent.