Hydes move from Moss Side brewery will see job losses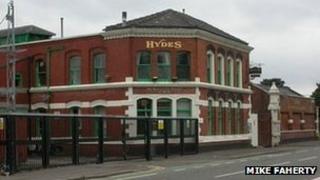 A Manchester brewer has said moving from the home it has inhabited for more than a century will involve "the loss of a number of jobs".
Hydes, which is based at Queens Brewery on Moss Lane West, Moss Side, has announced a £2m move to new premises.
Managing director Chris Hopkins said it had been "a very difficult decision" to move, but that the existing site was "simply not sustainable".
A spokeswoman said the move would be to a site "within the locality".
The brewer employs 50 people at the existing site, around half of which are involved in brewing, and Mr Hopkins said he regretted "the likelihood of job losses".
He said that any losses were being made "in order for the company to remain competitive in a very challenging sector, there is no realistic alternative".
Hydes are in the process of selling the part of their business which supplies free houses with products to Lancashire brewer Daniel Thwaites.
The spokeswoman said this deal would be completed on Monday 16 January and would allow Hydes to concentrate on brewing its products and supplying its own pubs.
'Not suitable'
Mr Hopkins said it would be "sad to see brewing end at Queens Brewery", the Grade II-listed site which has seen brewing since 1861.
However, he said the brewery, which the company took over in 1899, "was built over 150 years ago and is not able to meet the challenges of efficient production and distribution of beer in the 21st century".
"The site is not suitable for the company's future requirements, particularly given the level of maintenance expenditure which will only increase as time goes by," he said.
"The proposed investment in the new brewery indicates Hydes continuing commitment to the brewing of great cask ales in Manchester."
The spokeswoman said several new sites had been identified and a decision was still to be made on where the new Hydes brewery would be.
Mr Hopkins said once the move was completed, the intention was to sell the Moss Lane West site.