Internet users mistake drag queen for Margaret Thatcher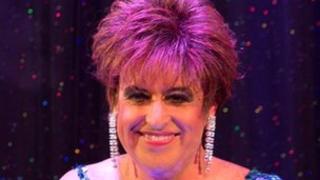 An entertainer from Manchester says his website has been overwhelmed by people trying to research the film of Lady Thatcher's time as prime minister.
Paul Carroll, whose stage character is called Mrs T, said visitors to the site had increased 20-fold in the run up to the release of the film.
He has now put a statement on the website to make it clear he has no connection with the film.
The Iron Lady, starring Meryl Streep, was released in the UK on 6 January.
Carrol's website promotes his Canary Islands drag act, The Mrs T Show.
Mrs Thatcher
He believes people are confusing his character with the former prime minister and says he has even been sent emails and Facebook messages from people trying to contact Lady Thatcher.
The statement on his site reads: "If you have come here seeking information on the new movie The Iron Lady, then we're very sorry but we can't help.
"This is the Mrs T Show, an award winning comedy drag chat and family entertainment show from the Canary Islands.
"Our Mrs T has no connections with the other Mrs T I'm afraid."
The site usually gets about 500 visitors a day, he said.
But this has gone up as many as 10,000 on some recent recent days - causing it to crash twice.
"There's been a rise in our web traffic over the past month or so. I thought it was odd because Christmas is usually a quiet time." said Carroll.
"I was scratching my head - I just could understand why suddenly everyone was searching for Mrs T. But when the messages started coming through the penny dropped.
"I've been working as Mrs T for years and anyone who has been to the Canary Island has probably heard of me.
"But I have to say I've never been mistaken for Margaret Thatcher before."