Rochdale councillor stands down after cannabis claims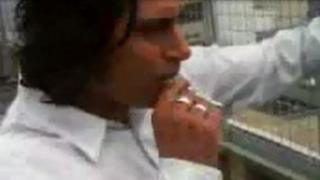 A Greater Manchester councillor has stepped down following allegations he smoked cannabis.
Rochdale Labour councillor Farooq Ahmed resigned after a film allegedly showing him smoking cannabis in 2010 was handed to a Labour MP and media outlets.
Mr Ahmed denies he took cannabis, but was suspended by Labour North West after he declined to disprove the allegations in writing.
He then resigned as a councillor, but pledged to clear his name.
He said the film was "a joke [that] was supposed to stay within friends".
"It wasn't cannabis, I was just playing along - it was a menthol cigarette," he said.
He said there was "a conspiracy to try and take me out and certain individuals have put me down".
"I'm not going to stop until I've taken legal action and proved my innocence," he said.
He said he had received a "shower of texts and calls" of support from other council members and community groups.
But he said he was choosing to step down because he had "had enough of all this backstabbing".
In a letter to Council Leader Colin Lambert, Labour Group Whip Jacqui Beswick said she had received allegations about the conduct of Mr Ahmed from Rochdale Labour MP Simon Danczuk.
She said she had been left with no alternative to recommending Mr Ahmed's suspension after he had been given the opportunity to "refute or otherwise these allegations in writing" but had not responded.
A Greater Manchester Police spokesman said the force would be reviewing the content of the video.