Warrington bus roof ripped off in bridge crash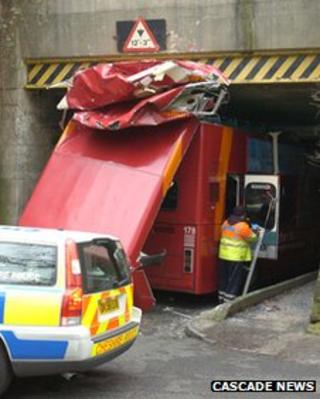 Eleven children escaped unhurt when a double-decker bus's roof was ripped off as it hit a bridge in Warrington.
The students from Lymm High School were on board when the bus struck the bridge on Cliffe Lane, Grappenhall, at 08:10 GMT.
It is understood the driver of the number 42 bus had taken a wrong turn.
The North West Ambulance Service said the children were "shaken up", but there were no obvious injuries and no children were taken to hospital.
The bus driver was treated for shock at Warrington Hospital before being released.
Cheshire Police said the bus was removed and the road was reopened by 11:00 GMT.
A spokesman for Network Warrington, which operates the bus service, said: "Our immediate thoughts and concerns are for the young people on board and their families.
"Service 42 is scheduled for double decker operation at all times and is operated under contract to Warrington Borough Council.
"The company is fully committed to the safety of our customers, staff and other road users and is carrying out its own internal investigation and is fully co-operating with Cheshire Police and Warrington Borough Council to establish the facts of the incident."
Angela Walsh, headteacher at the school, said: "The driver of the 42 bus made a wrong turn this morning and ended up trying to drive the bus under the bridge on Cliffe Lane in Grappenhall. The result was that the whole of the roof came off the bus.
"I am pleased to inform everyone that nobody was seriously injured, although there have been some cuts, bruises and severe shock.
"There will be a full investigation into this incident."
Warrington Borough Council said it would carry out its own investigation.
A spokesman said: "Our immediate priority is to support the school children and families involved in this incident in any way we can and offer any help and advice that they need.
"Our highways officers have already been on the scene to make sure that the highway is safe."