Rochdale drug claim councillor withdraws resignation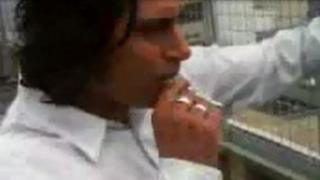 A Greater Manchester councillor who stood down after allegations of smoking cannabis has withdrawn his resignation.
Rochdale Labour councillor Farooq Ahmed resigned after a film allegedly showing him smoking cannabis in 2010 was handed to a Labour MP and media outlets.
However, following support from the public, he said he would not now leave the position.
Mr Ahmed, who denies taking the drug, remains suspended from the Labour Party while an investigation takes place.
'Town needs you'
Mr Ahmed announced his resignation on Tuesday but said that as he was delivering his letter to formally resign, he was moved to change his decision.
He said he had had messages from "members of opposition parties, youth groups, various community and charitable organisations and, most importantly, the people of Rochdale".
"I did not expect the calls that I was getting, with people saying 'this town needs you'," he said.
"I love Rochdale to bits and whatever people say negatively, I want to keep on doing the good work that my town needs."
A Greater Manchester Police spokesman said the force was reviewing the content of the video.