Money laundering solicitor Nicholas Heywood jailed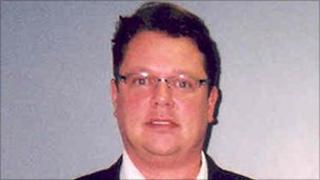 A Bolton solicitor who facilitated the laundering of money from a lottery winner has been jailed for 12 months.
Keith Gough, from Shropshire, won £9.5m in 2005 with his then wife Louise. He died five years later, aged 58, following a suspected heart attack.
His former solicitor, Nicholas Heywood, also admitted two proceeds of crime offences and perverting and prejudicing the course of justice.
A spokesman for Cheshire Police said he had "abused his trusted position".
The solicitor, from High Bank Lane, Bolton, had admitted perverting and prejudicing the course of justice in relation to Duncan Adamson, a longtime friend and client who was convicted of money laundering in 2007.
'Undermined public trust'
Heywood failed to produce two key files during a trial and although he later produced one of them, it was significantly altered.
Det Insp Tim Dean, of Cheshire Constabulary, said: "Heywood abused his trusted position as a solicitor with the deliberate intent of frustrating a police investigation and justice itself.
"I cannot think of a more damning condemnation of a solicitor other than to pervert the course of justice and launder money.
"His actions have undermined the public trust in all solicitors. As such I feel sure all solicitors including his old colleagues would totally condemn his actions."
Correction 13 January 2012. This article has been amended after it emerged that a Press Association report that Nicholas Heywood had cheated Mr Gough out of money was incorrect.