Toilets in Stockport 'ideal' for small businesses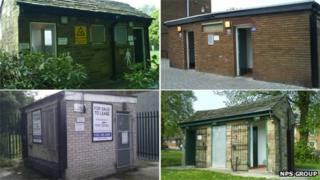 Disused public toilets in Stockport have been put up for sale by the council, which has said they would make ideal business premises.
Stockport Council's executive member for regeneration Kevin Hogg said they had been "tried as public toilets, but they just get vandalised".
He said toilets had already been converted into a car dealership and solicitors' office.
The toilets are in Hazel Grove, Marple, Cheadle, Edgeley, Mellor and Woodley.
Mr Hogg said the sale of the facilities would not impact on the number of public conveniences, as the council was working to ensure other toilets were available.
"We have a community toilet scheme, where local businesses open up their facilities for the public to use," he said.
"We have five in Hazel Grove, for example, in place of one public toilet.
"We didn't close any public toilets until at least three community toilets were provided."
He said the toilets could easily be converted into businesses.
"They are very cheap and what you have to do is use a little bit of imagination and not look at them as a public convenience but as a small office," he said.
The owner of Shallcross Vehicle Solutions, Paul Shallcross, said setting up shop in a former toilet was a great idea.
"It's a compact building, so the rent, rates and heating of it are cheaper than you'd expect from anywhere else," he said.
The properties are valued at between £25,000 and £50,000.