Saline hospital: Extra security costs £500k at Stepping Hill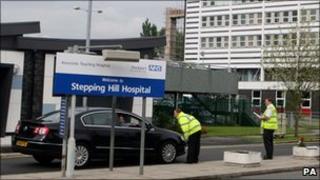 Almost £500,000 was spent on additional security at Stepping Hill Hospital after the contamination of saline that is being linked to four deaths.
Chris Burke, chief executive of the Stockport hospital's trust, said the incident was "unprecedented" and the security measures were "essential".
Detectives believe 21 patients were affected when saline drips were contaminated with insulin last year.
Three people died in the summer with a fourth victim dying on 31 December.
Tracey Arden, 44, Arnold Lancaster, 71, and 83-year-old Derek Weaver were all administered insulin unlawfully, police said.
It recently emerged Bill Dickson, 82, had died on New Year's Eve, having also been a victim of the contamination in June and July.
Tests are continuing into whether the contamination caused their deaths.
'Exceptional nature'
Mr Burke said: "We responded promptly and robustly to the saline contamination incident.
"This was an unprecedented incident and the use of security guards was an important immediate measure that was required.
"Not only to make patients and their families' feel safe coming to our hospital, but as part of a number of security measures around the incident."
He said patient care had not been affected by the additional security costs which has been funded by "NHS bodies".
"The exceptional nature of the high profile and on-going police investigation at our hospital has been acknowledged and additional funding is being provided by the relevant NHS bodies to help with the costs," he said.
Hospital entrances were patrolled for 24 hours a day from July to October.
Internal security
Alicia Custis, head of communications at the trust, denied the scaling back had been due to costs.
"We reviewed our security arrangements and we didn't need them because we had more robust measures in place internally," she said.
These include CCTV in some treatment rooms, two nurses required for the preparation of drugs on wards and two members of staff required for access to any treatment room in the hospital as well as 24-hour security patrols inside the hospital.
Nurse Victorino Chua, 46, of Stockport, has been arrested on suspicion of murdering three patients and 18 counts of causing grievous bodily harm with intent. He has been released on bail pending further inquiries.
Another nurse, Rebecca Leighton was charged with criminal damage with intent to endanger life and theft in connection with the inquiry. Charges against her were dropped in September, due to insufficient evidence.
She was later sacked after admitting stealing opiate drugs from the hospital but is appealing against the decision.