Metrolink apology over tram system failures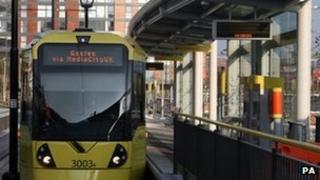 Bosses at Greater Manchester's tram network have apologised to passengers for a series of recent delays and cancellations.
Susan Wildeman, Director of Communications and Customer services at Transport for Greater Manchester, blamed "unpredictable incidents".
The latest saw a tram failure during the Wednesday evening rush hour.
She said: "The one thing we are keen to do is make Metrolink reliable so passengers know what to expect."
The tram system has been dogged by several delays in recent weeks.
"It's separate incidents, the kind of things that can occur that you can't predict," said Ms Wildeman.
She added: "There are challenges, we're trying to do some big pieces of engineering as we go forward building new lines, we're trying to introduce a new tram management system, to make everything work better that's a challenge in itself."
But some passengers are angry at the spate of delays.
One said: "Of my six journeys this week, only one has operated as it should."
Another added: "They're charging more money and ultimately giving a worse service, that speaks for itself."