Recorded crime falls in Greater Manchester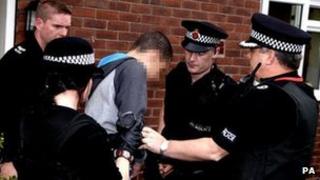 There were 16,500 fewer crime victims in Greater Manchester between October 2010 and September 2011 compared to the previous year, figures reveal.
But the force's police federation said that spending cuts could halt the fall in crime.
GMP's Deputy Chief Constable Ian Hudson has rejected the federation's claim.
On Wednesday a letter to the chief constable emerged from GMP's Police Federation, claiming its officers were stretched beyond capacity.
Incidents of reported crime fell from 234,028 to 217,499 between 2009/2010 and 2010/2011, meaning that there were 16,529 fewer victims, according to the latest crime statistics for the force.
The figures show a 14% drop in robberies and a 7% fall in burglaries.
Deputy Chief Constable Ian Hopkins said: "There are fewer victims of each type of criminal offence, which means that people can feel safer and criminals are finding it harder to operate."
'Exhausted officers'
But Ian Hanson, chair of GMP's Police Federation, claimed that the £135m worth of cuts the force has to make before 2015 will affect its crime-fighting capacity.
Police officers cannot be made redundant but more than 1,300 officers will not be replaced when they leave or retire as the force seeks to cut a total of 3,000 posts.
"It is fantastic that crime is down but we are still yet to see the full effects of the comprehensive spending review," said Mr Hanson.
"Police officers are worried - they are exhausted."
Mr Hudson said his officers are facing a "very difficult time" but also said the force wanted officers to be more efficient.
He added: "We've also taken work off officers to free them up."