Cannabis farm found yards from Manchester police station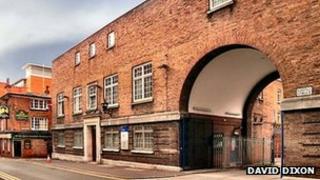 A cannabis farm has been discovered under the noses of police in Manchester.
Plants with a value of about £100,000 were found in a disused warehouse 40 yards (36m) from Greater Manchester Police's Bootle Street station.
The drugs were found following a fire at the warehouse on Wednesday.
Ch Insp Sarah Jones said there had been "no noticeable smell emitted that any officer walking past would have detected".
"In addition, the size of the building means that even if we had employed any of the tactics we use to try and identify farms, these would, in all likelihood, not have been effective," she said.
The fire at the warehouse at the junction of Peter Street and Southmill Street saw police attending to deal with road closures.
Once it was extinguished, officers discovered the remains of the farm, which had about 300 plants, on the third floor of the building.
Ms Jones said an investigation was under way to identify those responsible for growing the drugs and the reason for the fire.
She said cannabis farms were "a significant fire hazard due to the various electrical items required and amount of electricity used".
"In the last 12 months alone, Greater Manchester Fire and Rescue Service has extinguished 10 blazes at premises where there has been a cannabis farm," she said.
"The message for anyone involved or thinking of getting involved is that it is simply not worth the risk."