Stepping Hill saline inquiry: Further death probed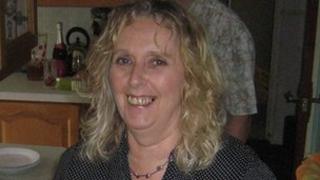 The death of a 60-year-old grandmother is being investigated by police as part of the inquiry into contaminated saline at a Greater Manchester hospital.
Linda McDonagh, from Stockport, died on 14 January after being given saline at Stepping Hill Hospital last summer.
Hers is now one of five deaths currently being investigated by police.
Nurse Victorino Chua, 46, has been bailed until April after being arrested on suspicion of murdering three patients.
He was also questioned in connection with 18 counts of causing grievous bodily harm.
'Preying'
Mrs McDonagh, who was married with three grown up children and two grandchildren, was among those believed to have suffered hypoglycaemic episodes between June and July last year after being administered contaminated products at the Stockport hospital.
She had been diagnosed with motor neurone disease two-and-a-half years ago. Her condition had been getting progressively worse and she was being treated in the hospital for pneumonia.
Her husband Stewart McDonagh, 61, said: "There's someone out there preying on vulnerable people while they should be in a place of safety.
"The person who's done this to my wife and other people should come forward and search their conscience.
"They are in a hospital where they should be caring for people and helping them to get well. They should give themselves up."
Greater Manchester Police said the coroner had been informed and tests would be carried out to establish the exact cause of Mrs McDonagh's death.
'No ill feeling'
Mrs McDonagh had worked as an office administrator at an NHS clinic in Bramhall for seven years.
Her daughter Amanda Thorley said when her mother found out her saline had been contaminated, "She thought 'typical me - I'm so unlucky'".
She said: "There was no ill feeling. It was horrible for her.
"It made me feel quite angry at first but we accepted it.
"We put all our energies into her getting over pneumonia rather than worrying about that because she was better.
"She had been poorly for so long you just didn't want to waste your energies on it."
Mrs McDonagh recovered from pneumonia but had a relapse and was re-admitted to Stepping Hill, again with pneumonia on 7 January.
She was put on a non invasive ventilator, which included a mask over her face to help her to breathe. She decided to remove the mask herself and died on 14 January.
'Strength and courage'
Ms Thorley said: "She was tired and had had enough.
"She made her own decision. She chose to take the mask off and take her chances.
"It was amazing strength and courage. That was the part she could control."
Detectives and medical experts who reviewed the cases from June and July and have now concluded that 21 people have been poisoned deliberately, including Tracey Arden, Arnold Lancaster and Derek Weaver, who died in the summer.
Bill Dickson, 82, had his saline poisoned over the summer, and died on New Year's Eve. He is currently being treated as one of the victims of grievous bodily harm.
Twenty-one patients have been eliminated from the inquiry by police. It is still unclear whether two other patients who suffered hypoglycaemic episodes did so naturally or as a result of being poisoned.
Stockport NHS Foundation Trust said: "We are aware that a 60-year old woman who was a victim of saline contamination last summer has died.
"Our thoughts are with her family and friends at this sad time."