John Beeley death at Stepping Hill Hospital probed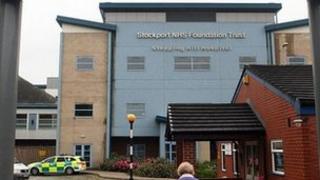 The death of a 73-year-old man, who is believed to have been poisoned with insulin at a Greater Manchester hospital, is being investigated.
John Beeley, who was known as Jack, died on 20 January, Greater Manchester Police said.
Police are now investigating six deaths at Stockport's Stepping Hill Hospital following incidents last year.
Nurse Victorino Chua, 46, arrested on suspicion of murdering three patients, has been bailed until April.
He was also questioned in connection with 18 counts of causing grievous bodily harm.
'Stringent tests'
Linda McDonagh, 60, died on 14 January, it was revealed earlier.
Three other patients Tracey Arden, Arnold Lancaster, Derek Weaver died in July.
A fourth man William Dickson died on 31 December.
All six were among 21 people believed to have been unlawfully administered insulin in saline at Stepping Hill Hospital.
Det Supt Simon Barraclough said: "It is really important that we differentiate between the deaths of Tracey Arden, Arnold Lancaster and Derek Weaver - who died shortly after being poisoned - and the three subsequent deaths.
"We believe insulin may have played more than a minimal part in the deaths of Tracy, Arnold and Derek.
"While we are continuing to undertake stringent tests into the deaths of all six patients, we believe that it is highly likely the later deaths should more properly be attributed to natural disease."
"It must be emphasised that it is for HM Coroner to ultimately determine the causes of death and while we are doing all we can to get to a conclusion as soon as possible it is likely this process could take several more months."
Stockport NHS Foundation Trust said: "Our thoughts are with the families of Linda McDonagh and John Beeley, who both died recently.
"This is a sad and difficult time for the families."