Stepping Hill inquiry: Deaths should be 'differentiated'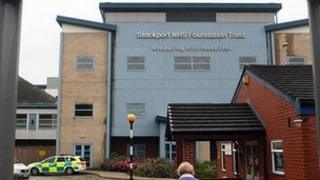 Three recent deaths connected to saline contamination at Stepping Hill Hospital should be differentiated to those last summer, hospital chiefs have said.
Police are investigating the deaths of six patients at the Stockport hospital.
All six are believed to have been poisoned with insulin over the summer. Three died shortly afterwards but three others have died since New Year's Eve.
Dr James Cantania, of the hospital, said it was "highly likely" the recent deaths were due to "natural disease".
'Great professionalism'
The medical director added: "We understand that there is concern about what has happened, but the criminal and malicious act of saline contamination does not reflect on the good care provided by our skilled and dedicated staff and the effective working practices in our hospital.
"We're also reminding people of the additional security measures that we now have in place that go above and beyond standard practice.
"These include CCTV in some treatment rooms, two nurses for the preparation of drugs on wards, two members of staff required for access to any treatment room in the hospital and security guards on mobile patrol within the hospital.
"Our staff have shown great professionalism in getting on with the day job and have continued to work immensely hard.
"They are determined that this criminal act does not overshadow this hospital's long-standing record of good care and we are grateful for the outstanding support from our community".
The six patients are among 21 people believed to have been unlawfully administered insulin in saline solution at the hospital.
Tracey Arden, Arnold Lancaster and Derek Weaver all died in July.
William Dickson died on 31 December, Linda McDonagh died on 14 January and John Beley - known as Jack - died on 20 January.
Nurse Victorino Chua, 46, was arrested on suspicion of murdering the three patients who died over the summer and has been bailed until April.
He was also questioned in connection with 18 counts of causing grievous bodily harm.