Coleen Rooney blackmail pair jailed for £5,000 plot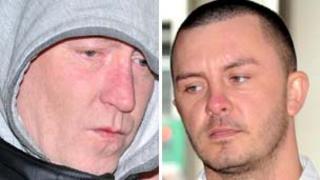 Two men who tried to blackmail Coleen Rooney have been jailed.
They demanded £5,000 from the wife of Manchester United and England striker Wayne Rooney for the return of her stolen camera containing family photos.
Lee Platt, 29, and Steven Malcolm, 42, admitted handling stolen goods and blackmail. Platt was jailed for two years and Malcolm for 20 months.
Judge Anthony Gee QC at Manchester Crown Court called the offence "vile and despicable".
Platt's girlfriend and business partner Jennifer Green, 26, was given a 12-month community order and told to perform 40 hours of unpaid work after admitting assisting in the retention of stolen goods.
Malcolm, of Silkin Court, Chorlton, Manchester, was a handyman employed at their furniture firm in Manchester.
Rooney's private life
Platt and Green, both of Heaton Park Road, Blackley, Manchester, obtained the memory card of Mrs Rooney's camera which was stolen while she was watching a Black Eyed Peas gig at the Manchester Arena on 24 May 2010.
The court was told there were photos showing the couple's son Kai, family holidays and their home and wider family, which were all touted for sale to newspapers and magazines.
The blackmailers had initially called Manchester United Football Club and tried to extract £1,000 from Rooney's agent Paul Stretford.
After publicity about Rooney's private life, they upped the demand to £5,000, the court heard.
They also approached Hello! magazine, The Sun and Daily Star.
But after the approach to Mr Stretford the police were called in and mounted a sting operation with an undercover officer contacting the plotters for a meeting in September 2010.
Sentencing Platt, Judge Gee said: "Blackmail is a vile and despicable offence, preying on the vulnerable and causing great distress."
He added: "You obtained the (memory) card and the camera, and involved your girlfriend and Steven Malcolm."
The judge said Platt's claim to Rooney's representatives that the card contained a number of pictures showing the footballer in a drunken state was a ploy to "extort more money from the Rooneys".
'Amateurish venture'
Platt had a number of past convictions including theft from an employer, handling stolen goods and making false representations and was on bail for another matter of handling stolen goods at the time of the blackmail - he received 16 months for this offence at Bolton Crown Court last April.
David Toal, representing Platt, said his client came "innocently" into possession of the stolen camera during the course of his work.
He said the blackmail was an amateurish venture which was bound to fail, adding that his client was remorseful.
Malcolm had several previous convictions - mainly for disorder and violence - but had also committed burglaries and theft.
Iain Johnstone, for Malcolm, said it was his client's case that he knew nothing of the blackmail plot until the day before he was arrested when meeting up with the undercover police officer.
Andrew Jebb, representing Green, said: "She has lost her good character. Her family have made clear their significant disapproval of what she got herself involved in."
In her victim impact statement Coleen Rooney said the family pictures were of no relevance to anyone else other than her and her family.