Dog leaves hole in Manchester boy Mohammed Ali Kamal's leg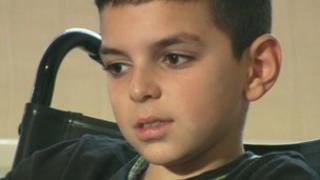 A 10-year-old boy has undergone two major operations after a Staffordshire Bull Terrier ripped a large hole in his leg in Greater Manchester.
Mohammed Ali Kamal has returned home after spending four nights in hospital since the dog attacked him in Miles Platting, Manchester, last Thursday.
His parents heard his screams and ran to his rescue.
Greater Manchester Police said they were investigating the incident and confirmed the dog has been destroyed.
Speaking after undergoing his operations, Mohammed said that in response to his screams as the dog bit him, his dad ran out of their house.
'Fistful of flesh'
"There was a ball so he picked it up and threw it at the dog," said Mohammed.
"But the dog wouldn't let go and then he screamed at the dog and it let go."
His mother Wendy said: "He's got a fistful of flesh missing from his right leg.
"And on his left leg he's got four holes caused by teeth.
"[Mohammed] could have lost his life and I'm grateful he didn't but people need to take care of their dogs."