Leaning tower of Scholes to be straightened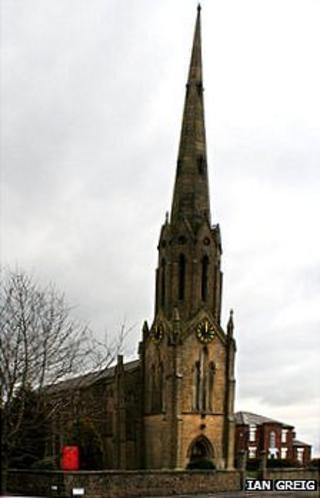 A Greater Manchester church's leaning tower and bent spire are to be straightened.
The Church of St Catherine in Scholes, Wigan, has become unsafe after gradually listing to 5ft (1.5m) out of line due to subsidence.
Architect Anthony Grimshaw said the tower was "worsening" and the distance it had moved was "a hell of a lot".
The £750,000 project to rebuild it will be funded by English Heritage, the Heritage Lottery Fund and the church.
Mr Grimshaw, who has "known the church my whole life", said he had done "checks and computer analysis and found that it was gradually moving millimetres".
He said this gradual movement had built up over the years and that it was unsafe as a result.
"With a thing like that, you never know when it could go," he said.
"We checked it and realised it was worsening - the interior structure was rusting away and pulling out of the wall."
The architect said that the leaning was due to poor ground and mining subsidence.
The project to rebuild the tower and spire is expected to take around a year with the church meeting about £150,000 of the cost.
Mr Grimshaw said he was "delighted" that the church, which is a Grade II listed building, will "continue to be seen by future generations".
The work on the church will see the spire removed, before the tower is strengthened with new foundations.
The spire will then be re-erected.
The Church of St Catherine was originally built in 1840 and was designed by architect Edmund Sharpe, who was responsible for several buildings in the region, including terracotta churches in Bolton and Rusholme, Manchester.