AstraZeneca job cuts 'would be a setback for Cheshire'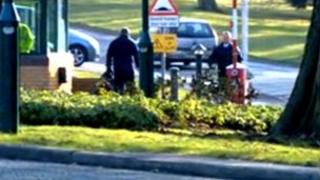 Job losses at drugs firm AstraZeneca in Cheshire would be a "setback" for the local economy, politicians have said.
Unions have said between 250 to 300 jobs could go at the company's Research and Development site in Alderley Park.
The company, which announced 7,300 job cuts worldwide, has yet to confirm details of UK posts to go.
Macclesfield MP David Rutley is to seek a meeting with science minister David Willetts to see what can be done to safeguard jobs in the area.
Following a staff meeting, workers leaving the Alderley Park site would not be interviewed by the BBC but one scientist said the company was yet to specify which jobs in which departments would go.
About 7,000 people work at the Research and Development division in Alderley Park and a manufacturing plant in nearby Macclesfield.
Mr Rutley said: "It's very disappointing news, it's a setback."
He said he had met company officials to stress the help needed for workers who might lose their jobs as well as talking with Cheshire East Council's redundancy task force.
The Conservative MP said, however, he thought the skilled workers would find work.
"It's a difficult climate out there, [but] there's a skill shortage in the UK, and if you take the example of the big closure in BAE Woodford, within a year most people had found jobs because of the skills they had."
'Impact study'
Mr Rutley also said the job cuts would be a concern to local businesses which is why he was seeking talks with the minister.
He said he believed the pharmaceutical industry needed a new model of working with certain sections such as Research and Development contracted out.
Tory councillor Wesley Fitzgerald, leader of Cheshire East Council, said he feared that the jobs would be lost for good.
"These are very high grade highly-paid jobs and we don't want to lose them, because we will never get them back," he said.
Cheshire East Council has already worked closely with the company in helping to relocate AstraZeneca employees in the area from other UK locations.
A council spokesman said: "We are currently working with the company to develop a full understanding of the impact this will have on the Macclesfield and Alderley Park workforce and we will do all we can to support the firm and any affected employees.
"Cheshire East Council recognises the importance of AstraZeneca as the largest business in the Borough - operating from its R&D base at Alderley Park and its manufacturing operation in Macclesfield."