Salford bus damaged in attack by gang of youths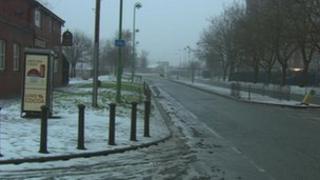 A bus carrying passengers in Salford has been damaged after it came under attack by a gang of youths throwing bricks and snowballs.
The incident happened at about 17:00 GMT on Saturday on Churchill Way, close to Salford Shopping Centre.
Sam Moran, 21, who was a passenger, said: "I was terrified. There were elderly women on the bus and a small child. One woman had an asthma attack."
Greater Manchester Police said no arrests had been made.
Mr Moran, from Eccles, said the youths got onto the bus through an emergency exit and the main door.
He said: "They began throwing snowballs and then concrete bricks.
"They pressed an emergency stop button at the back to stop the bus moving."