Salford bus attack 'completely irresponsible'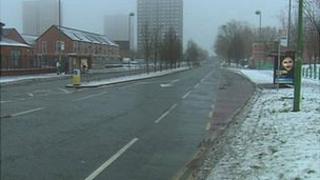 An attack on a Salford bus by a gang of hooded youths was "completely irresponsible", police have said.
A brick and snowballs were thrown at the bus on Churchill Way in Salford on Saturday, smashing a window and leaving passengers shocked and frightened.
Insp Dave Henthorne said about ten to 15 youths were involved in the "completely unprovoked attack".
He described the incident as "nothing but mindless", adding: "It is lucky no one was hurt."
The youths involved in the attack stopped it from moving away by lifting the engine cover and pressing the emergency stop button.
Police said the youths were between 13 to 15 years old and wearing dark tracksuits.
Sam Moran, 21, who was on board at the time, said the attack was "just horrific".
"There was nowhere for us to go, we were just stranded," he said.
If the brick had been thrown before the passengers had realised what was going on, "it would have hit someone and it could have killed them", he said.
Mr Henthorne said the attack had "intimidated passengers and left them clearly shaken by their ordeal".
"Throwing snowballs may be seen as some as an innocent act, but when they are thrown at vehicles containing passengers, this can be classed as intimidating," he said.