Bill Leader's good tradition of folk music production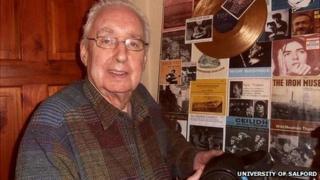 "I did the first sessions with Bert Jansch, Billy Connolly, Gerry Rafferty, Barbara Dickson. I never did their hit recordings though."
Middleton's Bill Leader is modest about how much he has given to folk music.
As a record producer, he has worked with many folk greats and was a guiding hand in two of its seminal record labels, Topic and Transatlantic.
Yet speaking to him after he was handed a Good Tradition gong celebrating his contribution at the BBC Folk Awards, he is matter-of-fact about how important he has been to the music.
Scene 'ill-defined'
He says he was just "lucky" to have ever been asked to produce the likes of Christy Moore and Pentangle and had never planned to take on music production.
"I was in a place where interesting music was being made and where somebody wanted to develop a record label and I was the only person around with the time to work on it," he said.
Leader's life in folk music began in the 1950s, when he became aware of a small but burgeoning scene in London.
"When I got involved, it was at its very beginnings - it wasn't a well defined and existing scene, it was just a style of music that I was drawn to," he says.
What drew him in was the label Topic, which has become one of the great names in folk music, but which at the time was an offshoot of a music association, publishing records in pressings of 100 at a time.
Thrown into it, Leader said he "did the lot really, because it was a virtually non-commercial operation".
What he excelled at though, was producing and he was increasingly at a studio desk, recording the talents of folk's revival movement, which introduced the music as an alternative to the rock and pop of the charts.
Buoyed by his success, Leader founded his own labels and continued his work.
'New lease of life'
However, as the 1970s went on, the labels began to flounder and the producer had to change direction.
"When the label hit really bad times, I had to get a proper job," he says.
"I was really lucky again because the University of Salford - or Salford Technical College as it was - were starting a course based around a music studio.
"Quite wisely, they needed someone around who knew vaguely what the studio did - and the academic staff didn't have a clue.
"So, despite not having an academic qualification to my name, I got a job."
He says that role "absorbed my energies for 20 years", as he showed new generations how to record music in his way - with respect for the artist and in collaboration with the sound.
Unsurprisingly, for a man dedicated to music, even when he retired from that role, his involvement with folk did not end.
"On retirement, I got swept up by a local musician, John Ellis, who had lots of great ideas about what he wanted to do and he dragged me in," he says.
"So as I was approaching 80, I suddenly had a new lease of life and I'm really, really happy to be able to assist with that.
"It's great to still be involved in music and with the people making music."