Manchester Barclays Bank 'fat cat' bowler hat protester fined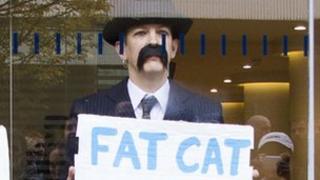 A woman who stood in a bank window in a bowler hat and suit to protest over bank profits has been fined.
Helen Steph Pike, 45, of Woodlawn Court, was convicted of aggravated trespass at Manchester Magistrates' Court. She was fined £450.
Pike was one of a group who stood in the window of Barclays Bank in Market Street, Manchester, in a protest by campaign group UK Uncut in October.
She held a sign reading "fat cat" in reference to the bank's large profits.
The protest was part of a series held across the country.
Last May activists protesting against proposed changes to the NHS were arrested after they occupied a Manchester city centre branch of Santander.