Slavery case girl tells court of abuse by Eccles couple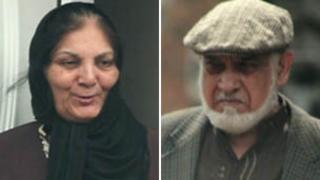 A deaf girl allegedly kept in a cellar, raped and treated as a slave in Greater Manchester has told a court of years of beatings and cruelty.
The girl, who cannot be identified for legal reasons, told the jury of the alleged abuse after being trafficked to the UK from Pakistan in 2000.
Ilyas Ashar, 83, and his wife, Tallat Ashar, 66, from Eccles, have denied charges at Minshull Street Crown Court.
Among the charges they face are false imprisonment and human trafficking.
The orphaned youngster was slapped, beaten, sexually abused and hit with a rolling pin while forced to work for no money during the day at the couple's home in Eccles, Salford, the court heard.
'Sad and weak'
At night the girl was made to sleep on the concrete floor of a cellar, the door bolted, the jury was told.
Her true age is not known, but it is thought she was aged between 10 and 12 when she came to the UK.
Asked about her life, she told the jury using sign language via an interpreter: "I was sad and weak because I was working so hard. I used to cook and clean for hours.
"They used to hit me from being very very little, all the time."
Shown a photo of Mrs Ashar, to identify her alleged abuser, the girl said: "That's the woman who used to hit me and beat me all the time as I was growing up.
"All through my life she's been hitting me.
"She used to hit me with her ring, she used to hit me in the face and cut my face with her ring. It hurt. She would scratch me.
"I would be down in the cellar, sitting alone and very upset. I could not get out."
The girl would put cups and crockery down on tables but Mrs Ashar would complain she put them down too hard and made too much noise - and so would slap her, she told the court.
She was also shown a photo of Mr Ashar, who is accused of raping the girl.
"The old man, he's bad," she told the court. "He's the one who has sex with me."
The court heard the girl has no family in the UK and has never been to school in the UK or Pakistan and cannot read or write.
Mr and Mrs Ashar both deny two counts of human trafficking into the UK for exploitation and a single count of false imprisonment.
Mr Ashar also denies 12 counts of rape and Mrs Ashar denies one count of sexual assault and unlawful wounding. The couple deny charges of benefit fraud along with their daughter Faaiza, 44.
The trial continues.