Salford's blue cranes 'too rusty to repair'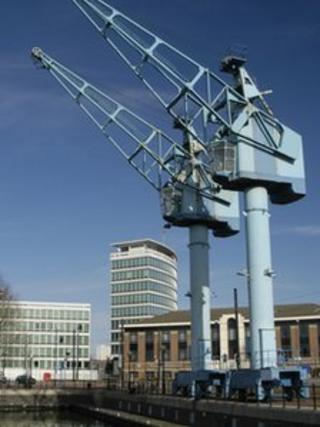 Salford's canal cranes could be scrapped because they are badly damaged and may cost up to £1m to repair.
The two cranes tower above the Manchester Ship Canal at Salford Quays.
Salford City Council said they were "symbols of the city's industrial heritage" but money may be better spent on a different monument.
Anne Beswick, of Manchester Guided Tours, said she would hate to see them go, adding: "They are the last little features left of the original docks."
"They have been workhorses at one time. I would be very sorry to lose them."
Council leader Derek Antrobus said: "The problem is [retaining them] them could cost up to £1m.
"In the current era of austerity is it worth spending a £1m on maintaining them as they are or can that money be better spent commemorating the heritage of the docks in a different way?"
Salford Docks, now renamed Salford Quays, opened in 1894 and was once one of Britain's busiest ports.
Industrial 'reminder'
More than 200 cranes were in operation there in its heyday, but now only two remain.
The docks, which began to decline in the 1970s, finally closed in 1982.
In 1988, the cranes were dismantled and re-erected on the present site as a landmark and a reminder of the working docks.
Salford Quays has undergone extensive redevelopment and now includes The Lowry arts centre and outlet mall, MediaCityUK, Salford Watersports Centre and numerous apartment blocks.