Whitney Houston vigil sparked Oldham house fire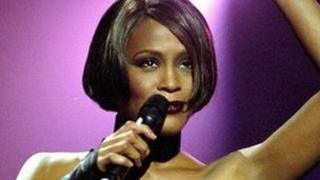 A candle left burning in memory of singer Whitney Houston sparked a house fire that destroyed a living room in Greater Manchester.
Anne Lomax, 53, of Hodge Clough Road, Sholver, Oldham, had lit a tealight which later set fire to some curtains.
She was woken up by a smoke alarm at about 02:40 GMT on Tuesday and escaped along with her son and three dogs.
American singer and actress Houston was found dead in her hotel room on Saturday.
"I was a big fan and I was just devastated when she died so I thought I'd light a candle," said Ms Lomax.
She added: "I had been sitting at the computer playing some music and saying a prayer for Whitney Houston.
"I was listening to her music and my thoughts were with Whitney.
"I had a little tealight on the window sill. I thought I had blown it out when I went up to bed but the next thing I knew the smoke alarms were going off."
'Devastating' damage
Ms Lomax said she "dreaded to think what would have happened" if smoke alarms had not been installed in the house.
"Everyone has candles these days but you don't realise how dangerous they are," she said.
"People should be careful with candles. I really thought I'd blown it out, I can't believe the damage it has caused. It's devastating."
Rick Taylor, from Oldham fire station, said: "The blaze quickly spread from the curtains to the TV and electrics in the house.
"It caused thick black smoke but thankfully they had a working smoke alarm which gave them an early warning."