Manchester riot clean-up pair donate prize to charity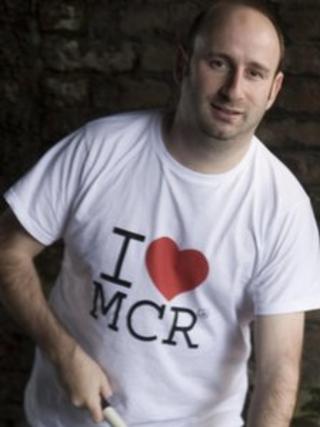 Two volunteers who won an award for organising a clean-up of Manchester city centre after the riots are donating their prize money to charity.
Jeremy Myers and Jen Perry set up the group "Riot Clean Up Manchester", while the riots were still taking place on 9 August last year.
Using Facebook and Twitter, they mobilised more than 1,000 people to help clean up the debris the next day.
They won £1,050 in the Be Proud Awards organised by Manchester City Council.
The money - provided by award sponsors - was given when they scooped the Community Force award - recognising groups and individuals who have worked hard to create better communities - and the overall Pride of Manchester award, given to the best of the best.
'Spirit of volunteering'
They will now split the cash between two local charities - the Lord Mayor of Manchester's Charity Appeal Trust, We Love Manchester, and the Manchester and Cheshire Dogs' Home.
Mr Myers said: "This was a community award that was given to us for the work we'd done, and the We Love Manchester charity does very commendable work within the local community.
"We wanted to give something back to the people of Manchester because it's really their money.
"The award was about recognising what the Manchester community had done on that day."
The Lord Mayor of Manchester, Councillor Harry Lyons JP, said the work of the group had been "inspirational".
"[It] proved that the spirit of volunteering was alive and well among Manchester residents and businesses," he said.
"I'd like to thank Jeremy and Jen for their generosity and for helping make sure this people's charity can continue to help people in the city."